2018 Taipei International Automation Industry Exhibition - Post-Exhibition Report
The Taipei International Automation Exhibition was held at the World Trade Center Nangang Exhibition Hall from August 1st to 4th, 2018.

SMMC acted as the Asycube programmable vibrating plate of the Swiss brand Asyril, attracting many people to enjoy the show. Sima Kai, general manager of Simad, said: "The traditional vibrating plate is screened through a spiral track, and at the same time, only one material can be screened, the material cannot be shared, and the size of the screening material is limited. The Asycube has a three-second quick change sieve plate and can be sieved at the same time. To three materials, the compatibility is extremely high. Successfully entered the screening equipment of Swiss famous watch movement gears (less than 0.1mm in size), which can be screened by others." He joked that the sample materials on the vibrating plate seem to be In the flexible running playground, this is a scene that was impossible to see in the past.

According to Jian Qiwen, Asycube integrates quickly, which can reduce the replacement time, and the tray can be replaced immediately with the user's application requirements. The smart sight control device can control up to four cameras and the Asycube vibrating feeder. In addition, the product can fully control the vibration and object detection of the feeding equipment, and directly output the object coordinates to the corresponding equipment; the intuitive teaching function operation and setting can be achieved by Asyril control software; and compatible with all Asycube vibration platforms, compatible with any PLC and industrial machinery brands.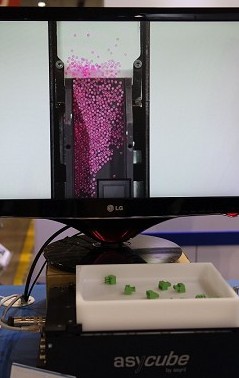 This year's International Automation Exhibition has come to a successful conclusion! This time, we won high praise from all walks of life at the exhibition!

Thank you for your love and encouragement, we will present better and more professional products next year!
If you are interested in learning more about the product, please call (03)346-1082 or EMAIL: smmc@seed.net.tw
For more products, please visit www.smmc.com.tw